Markets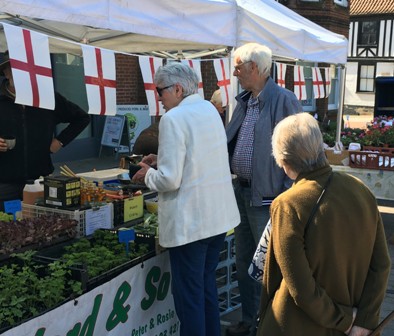 FARMERS MARKET
Regular customers are well aware of our farmers' markets, held always on the third Saturday of each month, and they make this a regular fixture in their shopping (and social!) calendar. But if you are new to the town you may not yet have discovered this excellent local asset. Wymondham was the first Norfolk town to introduce a market of this kind more than 23 years ago, though many other towns have now followed our example. Farmers' markets are only allowed to sell local produce (don't come here for your bananas!), and they encourage local farmers to sell directly to local customers.
As a result, Wymondham people get to know where their food is produced, who has produced it, and how much better it can taste than much supermarket food. A visit to Wymondham Market Place on a third Saturday morning can lead on to local shopping, a visit to one of our excellent cafes or restaurants or taking a look into one of many our heritage attractions. And of course, to meet friends. The Town Council has always actively supported the farmers' markets, advertising, setting up, clearing up afterwards and paying the business rates for the event.
Markets are open from 9am-1pm, but wise shoppers come early for the best choice of meat, vegetables and breads. If you don't know about it do try it, and if you haven't been for a while, why not come again!
One community space for Wymondham based groups is available at each market by prior appointment.

Information re stall fees and availability can be obtained from Karen by telephoning 01953 603302
2023 DATES

17th June 2023

15th July 2023
19th August 2023
16th September 2023
14th October 2023
18th November 2023
16th December 2023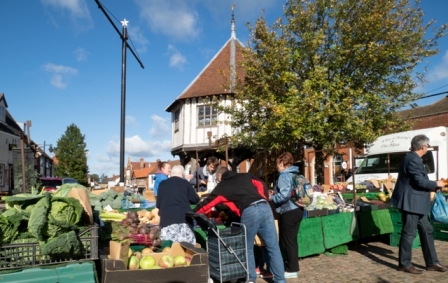 CHARTER MARKET
Henry V1 granted the town the right to hold a market in 1440, and a market has been held every Friday since then. The Friday Market is a major part of the historical and cultural identity of Wymondham, and one very much valued by residents in and around the town.
It is always a pleasure to have a walk around, chat with stallholders and sample the delights on offer.
Market day is from 9am-2.30pm every Friday and the Council would encourage everyone to pop along and treat themselves to some of the high-quality food and products available.

Parking is available at Central Hall, Back Lane

South Norfolk Car Parks - Back Lane, Market Street and Town Green.